Bespoke Tins of
Scrumptious Chocolates
These are perfect for wedding or party favours, but also great for a whole range of social events or business settings.
Bespoke tins are filled with fresh chocolates made and packed especially for you. They are ideal for wedding and party favours but also for a whole range of other events and situations including thanking clients or promoting your business.
The contents, though memorable, can disappear pretty fast. However, people do tend to keep the tins long after the chocolates have gone, so they become a great reminder and keepsake over the months and years to come.
Usually the tins come in 3 sizes:
Regular
14cm x 10cm x 2.8cm high
holding up to 270g
Pretty substantial and great as gifts and for saying thank you.
Dinky
9.5cm x 6cm x 2cm high
holding 20-25g
This tin looks great, especially when it's snugly filled. It gives a generous chocolate hit, but can slip neatly into a pocket or handbag with no trouble at all.
Tiddler
6cm x 4.5cm x 1.5cm high
holding up to 270g
This hold a couple of chocolates and is seriously cute.
How you would like them made
Bespoke filled chocolates can be in their usual 'oblong' shape or can be mould in heart shapes (perfect for weddings). They can be finished with different chocolate designs or flourishes. If you want your chocolates to be completely unique they can also be individually shaped by hand.
How would you like them wrapped and presented
It can be wrapped some or all of your chocolates from a selection of coloured foils. And can also be filled around your chocolates with fabric or tissue of your choice.
Information leaflet
Each tin can have a small legend or information leaflet describing each chocolate, but the front page can also mention your occasion (or organisation details)… eg.
Embossed tins with a personalised message
The tins look great, and can be kept as a fantastic long term reminder of you or your special event.
Bespoke Chocolate
It's possible to make all sorts of things. The main limitations are imagination, skill, engineering prowess, physics, time, persistence and courage! Chocolatiers're challenged in most of these areas, but they're often up for giving it a go.
Once something is made, the other issue is transportation. Either in terms of how best to package things up (i.e. packaging that is fit for purpose and not an ecological disaster!) and then how to ship your bespoke chocolate to you safely.
Filled chocolates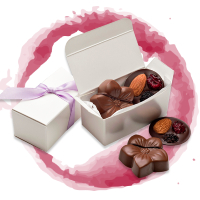 These days the chocolatiers use moulds to shape most of the chocolates, but they can form and decorate each individual chocolate by hand. Like all other handmade chocolates, they're delicious, but they also have that really special hand made quality that's difficult to put into words, but delightful to put in your mouth.
The chocolatiers started off forming all of their chocolates entirely by hand… but it's a much more time consuming process. Hand shaped chocolates also vary slightly in size and shape, so they're trickier to pack, and they're also more delicate.
However, if you're looking for something with that very particular handmade quality, every chef would be delighted to oblige.
Shapes and Forms
All manner of ridiculous things are possible.
However, a popular request is some sort of chocolate receptacle which is then filled with chocolates… so you get to eat the chocs, and their container. These are great for being on the table after a meal at weddings and parties.
In the summer it could even made to you a chocolate bowl of chocolate dipped fresh cherries…
Bespoke Chocolate Cake
This is a bit of a mystery. The chocolatiers usually are not really bakers, but they do seem to make rather fantastic chocolate cake.
Generally, there're four layers of cake with 3 layers of filling between them. The fillings are usually:
Lemon (home–made lemon curd with cream cheese and white chocolate) and either fresh whipped cream (but it needs to be eaten soon) or a ganache made out of white, milk or dark chocolate and cream (for a longer shelf–life).
The cake is then covered with more chocolate ganache and festooned with chocolate ornamentation of one sort or another.